.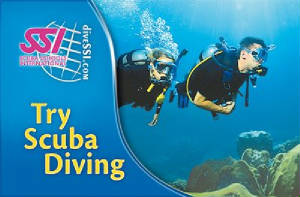 Try Scuba Diving!
It's your chance to discover unknown worlds, make new friends, and enjoy a unique passion. There's nothing like it. Diving is much easier than you might think! Be ready to enjoy the new challenge and dive into a new world!
To truly enjoy your first trip under water you need a guide you can trust completely. A competent, well trained Dive Leader will teach you everything you need to know.
Under our guidance you will learn all required skills and become completely comfortable with the equipment you're using during your first underwater adventure. Start with us, and you get all the advantages of one of the biggest international diving associations: worldwide recognition and proven learning methods in the latest media formats.
We're sure - once you've tried it you'll love it! Afterwards, it only makes sense that you continue your adventure to become a certified diver. Your Try Scuba certification card will be your first step. Achieve your Open Water Diver certification within the following six months and your Try Scuba open water dive will be recognized as one of the required dives.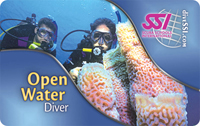 OPEN WATER DIVER
Becoming an SSI Open Water Diver is the best way to start your scuba adventure due to worldwide recognition!
With personalized training and taking enough time, we make sure you are truly comfortable under water with the skills and equipment you will use. In general, an Open Water Diver course consists of 3 parts: Academics, Pool Training and Open Water Sessions.
ACADEMICS:
The SSI Training Materials and Online Training program are designed so that you can learn the academics at your own pace when it is convenient for you. You can complete the academics online FREE when you sign up for SSI's Online Training program, and then attend review sessions at the Dive Center.
POOL TRAINING OR CONFIRM OPEN WATER:
For your pool and open water training we will fit you to your scuba equipment so you will become comfortable in your "second skin".
OPEN WATER SESSIONS:
You will complete at least 5 open water dives and have the chance to experience everything you learned in the pool/confirm water hands-on. After successful completion of your open water training dives you will become a Certified Diver. The SSI Open Water Diver certification is recognized worldwide so your diving experiences will be limitless.
The fun doesn't need to stop there! With just a little more training, you can go even further - imagine diving in underwater shipwrecks, with sharks, or becoming an underwater photographer! Check out all of the exciting Specialty Programs you can get involved in. It's your chance to move to the next level in your diving adventures. SSI will be a reliable buddy accompanying you on your way.